See on Scoop.it – projectbrainsaver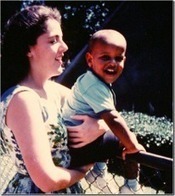 The most powerful man in the world says he owes everything he is to his mother – Stanley Ann Dunham.
She was an extraordinary and charismatic woman, who lived a full life moving halfway around the world, yet remaining forever a true American, both participating in making a better world and observing it with intelligent eyes.
American expatriate and film-maker Vivian Norris discovered, as she read Barack Obama's autobiography, that she had grown up, by chance, almost following in the footsteps of Stanley Ann Durham. As a result she has extraordinary personal access to the men and women who Stanley came into contact with in Texas, Seattle, Indonesia, and in the worlds of academia and microcredit.
This film, based on those contacts, and the filmmakers knowledge of the places and worlds in which Stanley Ann Dunham lived, will tell the amazing story of a girl from the Midwest who grew up to mother the first black president of the United States.
http://www.vigilante-vnm.com/page1/page1.html
…
Vivian Norris, PhD
Producer/Director
See on www.vigilante-vnm.com