See on Scoop.it – projectbrainsaver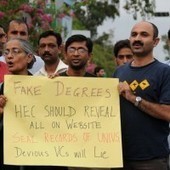 It's not the first scandal of its kind to rock Pakistan, where even lawmakers have been caught using fake academic degrees.
Pakistan's battle against fake academic degrees is not new. In 2008, the government under former military dictator Pervez Musharraf amended election laws to require a university degree mandatory in order to qualify to become member of parliament. This posed a challenge for a large number of politicians who did not meet the requirement, and some obtained fake degrees to work around it.
After a significant number of the false credentials were exposed by political opponents, the country's Supreme Court ordered the election commission to verify the university degrees of nearly all of their 1,100 federal and provincial parliamentarians, resulting in various lawmakers losing their seats. No actions were taken against those who issued fake degrees to the lawmakers.

See on globalvoicesonline.org