See on Scoop.it – projectbrainsaver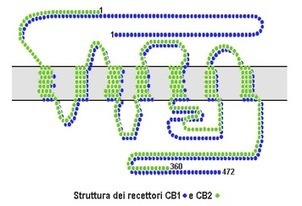 Mark Aldiss's insight:
Other cannabinoid receptors[edit]
The existence of additional cannabinoid receptors has long been suspected, due to the actions of compounds such as abnormal cannabidiolthat produce cannabinoid-like effects on blood pressure and inflammation, yet do not activate either CB1 or CB2.[14][15] Recent research strongly supports the hypothesis that the N-arachidonoyl glycine (NAGly) receptor GPR18 is the molecular identity of the abnormal cannabidiol receptor and additionally suggests that NAGly, the endogenous lipid metabolite of anandamide (also known as arachidonoylethanolamide or AEA), initiates directed microglial migration in the CNS through activation of GPR18.[16] Other molecular biology studies have suggested that the orphan receptor GPR55 should in fact be characterised as a cannabinoid receptor, on the basis of sequence homology at the binding site. Subsequent studies showed that GPR55 does indeed respond to cannabinoid ligands.[9][17] This profile as a distinct non-CB1/CB2 receptor that responds to a variety of both endogenous and exogenous cannabinoid ligands, has led some groups to suggest GPR55 should be categorized as the CB3 receptor, and this re-classification may follow in time.[18] However this is complicated by the fact that another possible cannabinoid receptor has been discovered in the hippocampus, although its gene has not yet been cloned,[19] suggesting that there may be at least two more cannabinoid receptors to be discovered, in addition to the two that are already known. GPR119 has been suggested as a fifth possible cannabinoid receptor.[20]
See on en.wikipedia.org